About TITAN Skateboard Tools
The company was created with a simple goal: develop a skate tool that you never have to remember to bring, that can quickly assemble a complete board, while being so light and small you don't even know it's there. The company and tool were designed by life-long skaters and continues to be skater-owned and operated.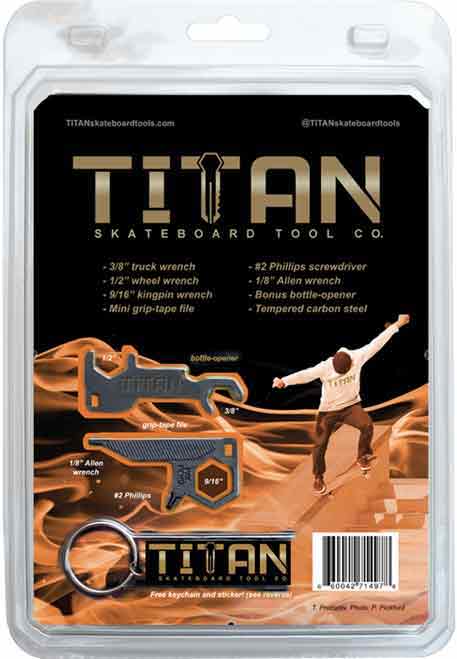 The first authorized dealer was Braille Skateboarding after being launched in 2017.
Soon after, Wreckless Skate Shop in Ireland and then Blue Tomato from Austria (owned by ZUMIEZ) picked up the skate tool putting our skate keys in 45 stores in 6 countries.
Legendary pros were stoked to see its patent-pending multitool design including:
Steve Steadham (former Powell pro and teammate of Tony Hawk)
Tony Magnusson (H-Street, OSIRIS, and EVOL Snowboards co-founder and hall-of-famer)
And Eddie "El Gato" Elguera, world champion and hall-of-famer.
New for 2020 is a partnership with the legendary Tony Magnusson and H-Street becoming an official reseller. Plus a growing team of pro riders. The current TITAN pro riders are Tony Magnusson; as well as the legendary team mate of Tony Hawk, Steve Steadham; Tim Prozorov from Plan B and DC Shoes, and Jean Pantaleo from the famous Red Bull Rippers at Marseille's Prado bowl.

TITAN Skateboard Tools ships orders for the U.S., Canada and Mexico from our U.S. location below. All other orders are shipped from our international office.
Contact Us:

U.S., Canada, Mexico

4470 W Sunset Blvd #90794
Los Angeles, CA 90027
Tel. +1 (323) 739-5498

Email us at sales@titanskateboardtools.com for sponsorship, press, or sales.