CHRISTIAN HOSOI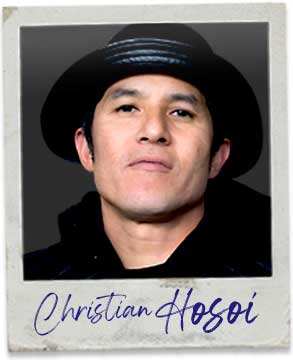 Christian Hosoi was the highest paid skateboarder in the 1980s due to his innate talents as a skateboarder both on vert and street, and his inimitable style both on and off the board. These, combined with his good looks and natural marketing savvy, made him a style icon with brands like the famous JIMMY'Z clothing, early sponsors like Powell Peralta, Alva, Dogtown, and later his very successful personal brand, "HOSOI Sktbrds", best known for their unique Hammerhead shape and cutout tail design for various grabs and other tricks. We caught Christian in person first at the Duel at Diablo contest at a Phoenix baseball stadium.
It seemed that every contest then was going to be won by either Hosoi or Hawk…Hosoi with his smooth surf-like style flowing low and blasting higher than anyone boosting McTwists, and his signature tricks like the rocket-air and Christ-air. Some his most notable contest performances include the famous Savannah Slamma contest series featuring its huge street course with massive vert walls, rails and a junkyard car.
Christian is a born-again Christian and devout pastor after having turned around his life when the fame and fortune caught up to him when skateboarding's vert scene took a nose-dive and the drug scene was everywhere in L.A.
Nowadays, this icon is still everywhere around the globe travelling with Steve Van Doren, co-founder of VANS, a long-time sponsor of Hosoi's that also released a signature Hosoi Sk8-Hi shoe model. Christian is a force for good wherever he goes and his auto-biography tells his story in his own words better than we can do it justice.
Hosoi along with co-author Chris Ahrens released his autobiography book Hosoi: My Life as a Skateboarder Junkie Inmate Pastor in 2012 that chronicles his life story and testimony of finding redemption and purpose after reading the Bible and becoming a pastor.
He's a true Legend and we're stoked to partner with him on his journey for continuing to skate, and be a positive force for good in the world today as he continues to run Hosoi Skateboards and its young Olympian male or female team members.
Hosoi is also a playable character in the video games Tony Hawk's Project 8 as an unlockable and Tony Hawk: Ride.